Instructors

Complete Bike Training is run by two full time instructors: John Taylor and Kevin Byrne.
Both John and Kevin are active participants in all areas of the motorcycle training industry and very well known in the area as highly regarded instructors.
All our instructors are fully qualified and approved by the Driver & Vehicle Standards Agency.
John Taylor – everyone simply knows and calls him JT.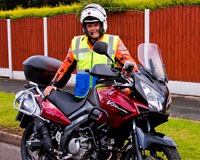 He has ridden bikes for more years than he would like to admit to and decided to put something back into a "fantastic and enjoyable hobby".
John therefore left the electrical contracting trade to concentrate on motorcycle training, gained his DVSA qualifications and has been teaching full time ever since.
JT rides one of our video camera bikes, a BMW GS Adventure.
John is a qualified teacher in the Life Long Learning sector and a qualified DVSA Post Test Motorcycle Instructor. John is at the forefront of developing new and modern training ideas, aimed at keeping motorcyclists safe into the next decade.
John said "My teacher training has given me a unique insight into helping people to get more from their bikes and more from themselves…Our fantastic location means this can be done on some of the finest roads in the country"!
When not out teaching, JT is to be found either as an active member of a local group of advanced riders, or quietly enjoying his photography or playing on his amateur radio. John is also a member of the IAM.
Kevin Byrne –

Kevin has considerable riding as well as teaching experience.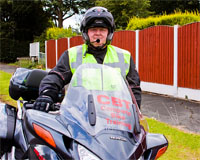 His first bike in 1973 was a Yamaha YDS 7, a 250cc twin but soon went for larger motorcycles after passing his test including a lot of time on scramblers and other off road bikes. His most favourite bike he has owned was another Yamaha, a V Max!
Kevin fully qualified as a DVSA Approved Motorcycle Instructor in 2004, left the building supplies industry and has been teaching riders of all experiences since then. He rides another camera bike, a Honda Varadero 1000.
He brings his wealth of riding and teaching experience together with a very good sense of humour.
Kevin said "Great riding is a craft, a skill. It gives me great pleasure in being able to assist riders, of all abilities, to improve what they do on a motorbike, to improve their own enjoyment and safety. Riding a bike is great fun. I cover over 50,000 miles a year on one and I enjoy every single mile!"
Although regularly riding all around Western and Eastern Europe, Kev is looking forward to a longer trip – to Moscow. This adventure is now at the planning stage!
Matt Clarke – A DVSA Approved Motorcycle Instructor, Matt has been working with us since 2010 covering both CBT and Direct Access.
Riding for 25 years and qualifying as a Motorcycle Instructor in 2001,
Matt has helped hundreds of new riders develop the skills necessary to
ride safely and to pass their tests.
He is a very easy going and approachable person and this comes across in his relaxed style.
Matt said "Biking is definitely in my blood.  In all these years of riding bikes my passion for biking keeps getting stronger and stronger.  I have ridden extensively in the UK and Europe and also been lucky enough to ride a bike for six months in
Australia."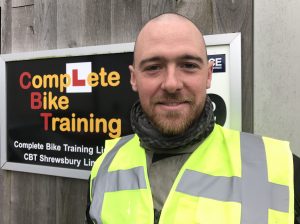 Andrew Banks
Andy is a passionate motorcyclist and a conscientious, enthusiastic teacher.
He has been riding motorbikes since 2005 and has loved every second of being on the road ever since.   He is experienced in many riding styles and currently owns a Harley Davidson and a Suzuki Hayabusa.
Andy has been a professional instructor since 2011 and he always creates a friendly and positive atmosphere for students to learn.   He has experience in training students across all skill levels, sharing his passion for bikes and riding.
"I equip my students with the knowledge that will enable them to be skilful riders, laying the foundations for them to be safe and confident on the road."
Tony Richardson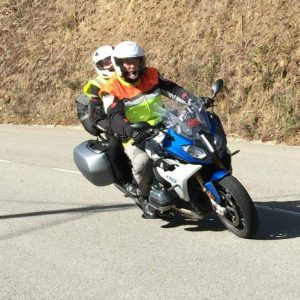 Tony has been riding bikes almost 30 years but was forced into it when his girlfriend at the time kept taking his car.  He got the bug big time.  He qualified as a DVSA Instructor in 1993 and went on to pass a Surrey County Advanced Motorcycle test.  Since then he has become a qualification collector including: Enhanced Rider Scheme Instructor as well as an Examiner for the IAM Roadsmart,  RoSPA and DIAmond.  Perhaps it's then no surprise that his 'day job' is as a Police motorcyclist, and as a coach for BikeSafe.
Tony said "No matter how much experience we have, we can always learn more; and learning should be fun and engaging.  That's what I strive to achieve when I teach or conduct a test."
Tony's huge expertise with coaching riders from CBT to Advanced level is a great bonus for us and he fits in well within our team.  When not working, Tony is often touring on his bike, usually with his son.
Karl Davies
Karl passed his test in 1992 after several years commuting on his RD and DT 125's.  Having had numerous bikes, Karl has recently discovered the joys of a new Harley Davidson Fat Bob, on which he likes to spend Sundays touring around our fantastic roads in the UK.
Karl wanted to combine his teaching and riding experience to help others appreciate the joys of being on two wheels and in 2017 he undertook our in-house Instructor training programme and progressed to become a fully qualified DVSA Instructor.
Karl said "I enjoy supporting people whilst they are learning to ride and improving the skills of existing riders to become safer and more experienced."