Bike Fleet

We use 4 main models of motorcycle for training. Our fleet is insured, maintained to a very high standard and fully fuelled.
Complete Bike Training has chosen these bikes for their reliability, comfort, ease of use, lightness and low seat height.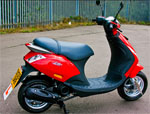 Piaggio Zip 50 cc Scooter
Our 09 registered scooter fleet are great fun to ride.   The Zip 50 cc has been revolutionised with a modern 4 stroke engine making it environmentally friendly and fuel efficient.
Light, agile and extremely easy to ride, the Zip even has a height adjustable seat for total comfort and control.
The Zip is fully automatic  – simply 'twist and go!'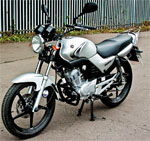 Yamaha YBR125
For CBT and standard licence training we use 09 registered Yamaha YBR125 motorcycles.
We have chosen the Yamaha because it is packed with clever, modern engineering and superb build quality.   This gives us a totally safe and reliable motorcycle which is very easy to ride.
The Yamaha has an electric start, side and main stands, modern fuel injected engine, roomy and comfortable seat, low weight and great manoeuvrability.  The YBR125 also benefits from a 5 speed gearbox with very light clutch, front disc brake for confident stopping and a seat height of only 780 mm.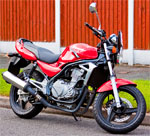 Kawasaki ER5
For Medium Licence training we have a modern range of Kawasaki ER5s.  These easy to ride 500 cc motorcycles are ideal to pass your test on.
Responsive, reliable, comfy and extremely manoeuvrable, the ER5 really does it all!
All our ER5s are meticulously maintained and have proven themselves to be great bikes. For your added protection, all our 500s are fitted with safety bars, front and rear.
We even have genuine Kawasaki lowered seats if needed.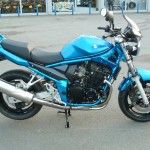 Suzuki GSF Bandit
For Direct Access (DAS) training, we have a selection of the ever-popular Suzuki Bandit. All our Bandits are modern and low mileage bikes. They have a 650cc 4 cylinder engine, delivering around 85bhp and a low standard seat hight of 770mm.
Designed to be comfortable and easy to ride, our bikes are maintained and prepared to the highest standards. Responsive engines and a light clutch make riding Suzuki's Bandit a dream. The digital dash keeps you informed at all times and the slick 6 speed gear box will help you develop a smooth and relaxed riding style.
For your added protection, all our Bandits are fitted with safety bars front and rear.
Suzuki SVF Gladius 650cc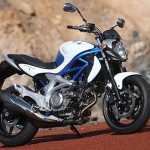 For Direct Access training we also use Suzuki's popular SVF 650cc Gladius.
This modern 53Kw 650cc V-twin is very easy to manoeuvre, is light and responsive. It has modern touches such as a gear indicator and digital dash and is great fun to ride. The narrow 785mm seat height is comfy all day, and we have a factory lowered bike too for shorter riders.
They all come with front and rear safety bars for your added protection.
Yamaha XJ6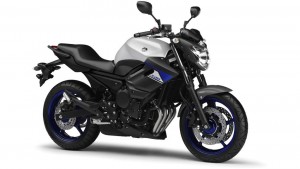 The XJ6 is one of Yamahas' most popular bikes because it combines outstanding all-round performance with easy handling and sharp looks.
Its compact chassis features a lightweight tubular frame with a low seat height of just 785mm, which makes for easy handling and enhanced agility.
Great turning circle too.  All day comfort and the assurance that all our XJ6 bikes are protected with front and rear safety bars.