What is the CBT?
The CBT is a course of instruction, safe practice and assessment for new riders wanting to ride a scooter or geared motorcycle. It is the first step to two wheels and must, by law, be taken by any new rider before they ride on the road using 'L' plates. You have to be at least 16 years old to ride a 49 cc machine and 17 years old to ride a 125 cc scooter/motorcycle.
Please do not worry if you have never ridden before as our CBT course is aimed at complete novices with no experience at all. Our instructors take you through all the required parts – or elements – of the course at your own pace; you safely learn and feel confident and happy.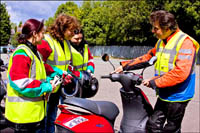 What Will I Learn?
Element A. This is classroom based.
The aims and objectives of the CBT are discussed together with offering advice on the importance of the right equipment and clothing. Your driving licence and eyesight will also be checked. You need to be able to read a new style number plate at a distance of 20 metres.
Element B. Introduction to the bike, including understanding all controls. You will learn all about basic bike maintenance – necessary daily and weekly checks – demonstration and practice of taking the bike on and off the stands. You will also walk with the bike getting used to balance, it's brakes and even where to look! Finally, you will be starting and stopping the engine.
Element C. Practical on site training. The next steps are to move off and stop safely and learn how to use the clutch and brakes correctly. Building your confidence, we then practice the gears (not scooters!) and controlled stopping.
A very important part of riding a bike is the ability to ride it slowly and the techniques required are demonstrated and you get to practice slow riding, slalom and figures of 8. Towards the end of this element you practice observations, simulated junctions, U-turns, and finally emergency stops. All preparing you for later on……..
Element D. Another classroom based discussion preparing you for safely riding on the road. Many topics are covered.
Element E. Your instructor will fit you with a radio and make sure you are happy and confident to go onto the road. We travel on all types of suitable roads to include junctions, roundabouts, traffic lights, gradients, bends, pedestrian crossings, and required observations.
You will receive guidance and advice via the radio and various road side briefings. This is not an exam! We need you to be safe and confident riding a bike. Element E is, however, a minimum of 2 hours and often longer. Relax, concentrate and enjoy yourself.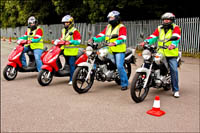 How Long Does It Take?
CBT is not just a 1 day course.  Most of our customers complete CBT within 1 days training, but different people do learn at different speeds – your safety must come first at all times.  Some may need more practice and
return to carry on another day.
At the end of your CBT you will be issued with a certificate called a
DL196.  This lasts for 2 years and allows you to ride a learner motorcycle or scooter on the road and also lets you go forward to take your full, practical test.
What Do I Need To Bring With Me?
You will need your UK photo-card driving licence, the card with your
picture.  If you still have the 'old' style licence, then please bring along your passport as well.
Wear suitable clothing (we can provide helmets, jackets, gloves and
waterproofs), bring a packed lunch and you will need a basic understanding of the highway code and road signs.
The most important thing you need to bring with you is a SMILE
– Training should be fun!